Partner status
Cooperation with the most reputable hardware and software suppliers lets us offer proven, innovative and fault-free products.
Xcomp.

How IT should be done
For more than 20 years, we have been designing IT infrastructure and supplying state-of-the-art hardware and software. We are a certified partners of the world's largest manufacturers.
We operate throughout Poland and abroad – working for clients in countries such as Denmark, Germany, Ukraine and Romania. We cooperate both with private entities and public authorities.
Our employees are the best IT engineers. We go a long way to secure a healthy work environment for them, inspiring constant development. We organize intensive trainings and invest in additional education, which result in obtaining many prestigious certificates.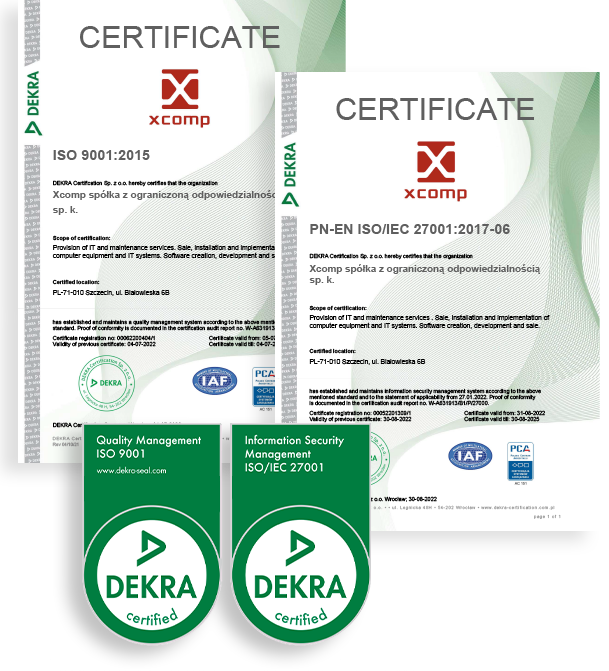 Our certifications
Xcomp's mission is to provide top-notch quality services. Our experts keep improving their skills by participating in expert training, not only in Poland but also abroad. An ever-growing portfolio of certificates confirms our knowledge and skills, providing a guarantee of your satisfaction.
During this time we gained useful insights about the market, along with knowledge about the Polish IT industry.
We are trusted by thousands of clients throughout Poland and abroad – including clients from Denmark, Germany, Ukraine and Romania.
During more than 20 years of activity, we have built an extensive portfolio, which only keeps growing.
Satisfied customers
The best testimony to the quality of our services is the group of strategic clients from the business and industrial sector, as well as health services, public administration and prestigious universities.
HPE – innovative solutions
The maximum efficiency of cloud-as-a-service solutions allows for migrating the entire company infrastructure into the cloud, securing additional savings. We pay for the actual storage capacity used.

The Zerto platform, based on Continuous Data Protection (CDP) principles, combines emergency recovery, backup and data portability into one, easy-to-use cloud data management and protection solution available in local, hybrid and multi-cloud environments. Save resources and reduce costs by replacing end solutions with the exclusively software-based Zerto platform.
HPE for SMB
Liberate your company's full potential with HPE innovations. Let us guide you through digital transformation with the industry most dynamic combination of proven reliability, easy-to-use products and an unwavering commitment to protection of your Company, facilitated by comprehensive cybersecurity solutions.